MFAME's visitors and readers are top maritime industry professionals who are always on the lookout for services and solutions for daily shipboard problems. 
MFAME is committed to keeping our readers informed and updated on the latest maritime trends, regulations, innovations, as well as the most recent equipment, technologies, and future market trends. 
Our dedication to providing timely and relevant information allows us to serve as a valuable resource for maritime professionals seeking to stay ahead in an ever-evolving industry.
What Can MFAME Offer to you?
MFAME provides advertisers the opportunity to reach unique and key decision making personnel. New content is added daily including shipping insights, industry news, interviews, and product announcements, exclusive podcasts and videos.
Promote your product or service with us and gain instant access to buyers in your community. You have a great Opportunity to reach this unduplicated audience exclusively through MFAME.
Our daily email newsletter offering the latest industry news and updates. Align your marketing message with editorial content to reach MFAME Daily News subscribers.
Advertising Banners

Daily Newsletter

Product Promotion

Content Promotion
Elevate your brand with posts on our website
Are you looking to expand your brand's reach and engage with a broader audience? Our website offers a powerful platform for sponsored posts that can elevate your online presence and drive results.
Whether you want to inform, entertain, or inspire, we can help you achieve your goals. Contact us today to explore opportunities and start reaching your target audience effectively.
Don't miss the chance to boost your brand's online presence. Partner with us for sponsored posts and experience the impact of strategic content marketing.
Convert Your Ads into Business Leads.

It is not Just Sales – But a Relationship & a Journey.
MFAME – Advertisement slots are under promotion and thus we are offering a great discount on the standard price. Most of the ads are kept separately in classifieds section, with the main intention to offer uninterrupted readability for our readers. We respect the professionalism and time, and strictly believe ads has to be in its own place.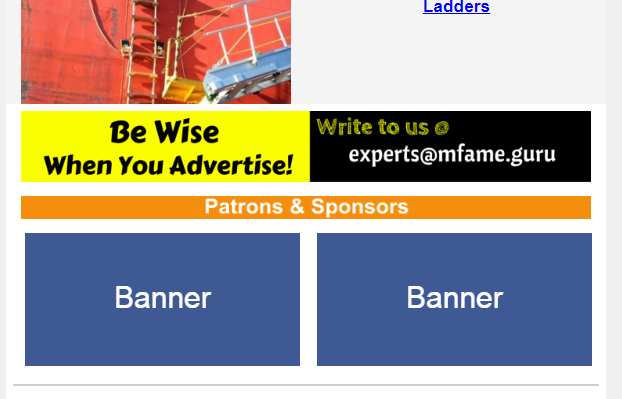 PATRONS/SPONSORS
Sponsorship Banner linked to company URL,

Patron company's news reports, awards, recognitions, will be carried and flashed through Newsletters.

Patron Company's innovation, new technologies and developments with new buildings will be carried as Flashing News.
And many more!
---
MFAME Newsletters
Daily Newsletters can carry your ads too. 
A fixed rate of $500/Month as a promotional price to have your ads reach top maritime decision makers through MFAME's Newsletters.
---

Ad Slot # 1: Banner – Home page – Vertical
Investment/Month: $500 (Promotional Price).
Maximize visibility on our homepage with a horizontal banner ad. Get your message across to our engaged audience with this prime advertising space.
---
Ad Slot # 2: Banner – Home Page – Horizontal 
Investment/Month: $400 (Promotional Price).
Capture attention on our homepage with a prominent vertical banner. Advertise your brand, products, or services where it matters most.
---

Ad Slot # 3: Banner – News/Article – Sidebar
Investment/Month: $250 (Promotional Price).
Place your banner ad in the sidebar of our news and article pages. Reach our informed readership with your message alongside valuable content.
---

Ad Slot # 4: Horizontal Banner – News/Article
Investment/Month: $150 (Promotional Price).
Promote your brand or products effectively within our news and articles. Grab your audience's attention with a horizontal banner ad placement.
All ad slots are under promotion and thus the cost and ad locations are subject to revision after the promotional period. The slots/banner locations are subject to change as we occasionally re-vamp the "Aesthetics" of the website. We hold all rights to approve/decline/modify ads or its content and we respect mutually beneficial coexistence than cut throat competition.
Avail these exclusive benefits with discounts during the promotional period – write to us – ads@mfame.guru.
Do not hesitate to contact us for custom product promotion or advertisement requirements.