 During the pandemic, it is vital to know which ports are allowing crew changes, while regulators need to assess the pandemic risk of vessels en route, writes Craig Jallal in an article published in Riviera Maritime Media.
Keeping this in mind, they have compiled these free-to-use digital tools which will help shipowners to assess the viable shipping route.
UK Takes The Lead
At the start of the Covid-19 pandemic, the UK was one of the first nations to recognize that commercial vessels and seafarers play a vital role in maintaining the overseas portion of any logistical supply chain. It has nominated seafarers as key workers. In the UK, the children of key workers are being sent to the few remaining open schools to avoid key workers having to give up their vital jobs and stay at home to look after them.
At an international level, seafarers play a vital role in maintaining the supply chains of goods arriving from overseas but some ports and authorities are denying seafarer the basic right of leave. Several organizations, including IMO and registries such as the RMI Registry (Marshall Islands) have received complaints from operators and individual seafarers stating that the prevention of repatriation is adding to their emotional stress and adversely affecting their well-being. Seafarers typically spend many months away from their families. Due to this pandemic, family reunions have been even further delayed.
Mapping Tool To Check COVID19 Restrictions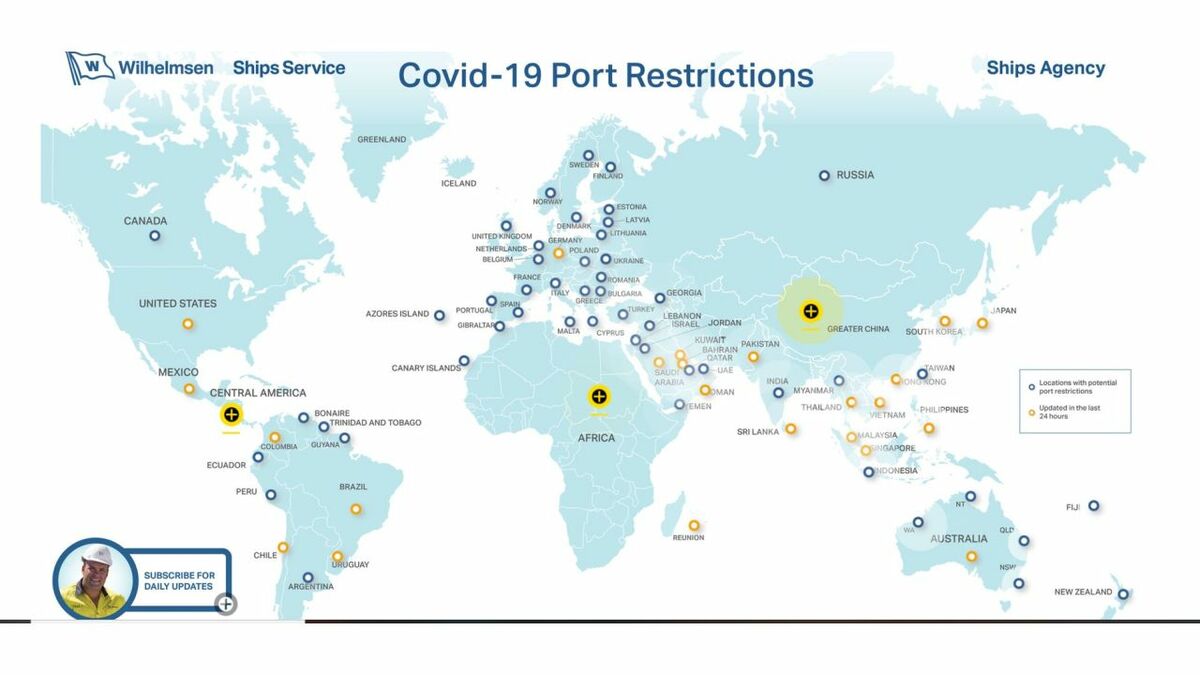 The problem for ship operators is that the regulations being imposed on ships is constantly changing. Maritime logistics and ships agency Wilhelmsen has produced the COVID-19 Global Port Restrictions Map. This map, which is being updated three times a day during the pandemic, shows the restrictions being imposed globally on vessels and crew.
Why this is important?
The general public is being urged, or in some countries like Italy and China forced, to undergo lockdown for seven, 14 days or longer. Vessels at sea are effectively under a similar level of lockdown. A vessel that has been at sea for 14 days has been isolated long enough for crew members to exhibit symptoms. The reverse is also true and regulators and authorities need to know if a vessel arriving has effectively undergone a lockdown or has only just left a Covid-19 coronavirus hotspot and needs special treatment.
Open Acess Interactive Map
Windward, a world leader in maritime analytics, has offered to provide open access to its data and insights, offering a greater understanding of global trade flows – helping to strike a balance between protecting public health and maintaining global economic stability. The new, interactive COVID-19 Shipping Map, is a publicly-accessible tool that gives users aggregated information on global maritime journeys, including types of ships, their origins and – critical in terms of the virus incubation period – time spent at sea.
Windward's chief executive officer Ami Daniel said "Watching this global pandemic unfold, I knew we had to do whatever we could to help.
We want this tool to enable everyone – including researchers, ports, governments, health officials, and the general public – to see that even in the face of Covid-19, the global shipping industry plays a critical role in ensuring supplies can continue to come in.

The maritime ecosystem is strong, and together, we are stronger."
Did you subscribe to our daily newsletter?
It's Free! Click here to Subscribe!
Source: Riviera Maritime Media