 Singapore's residual fuel oil stocks have averaged 10% higher so far this month than across July, reports Engine.
Singapore fuel oil and middle distillate stocks since January 2020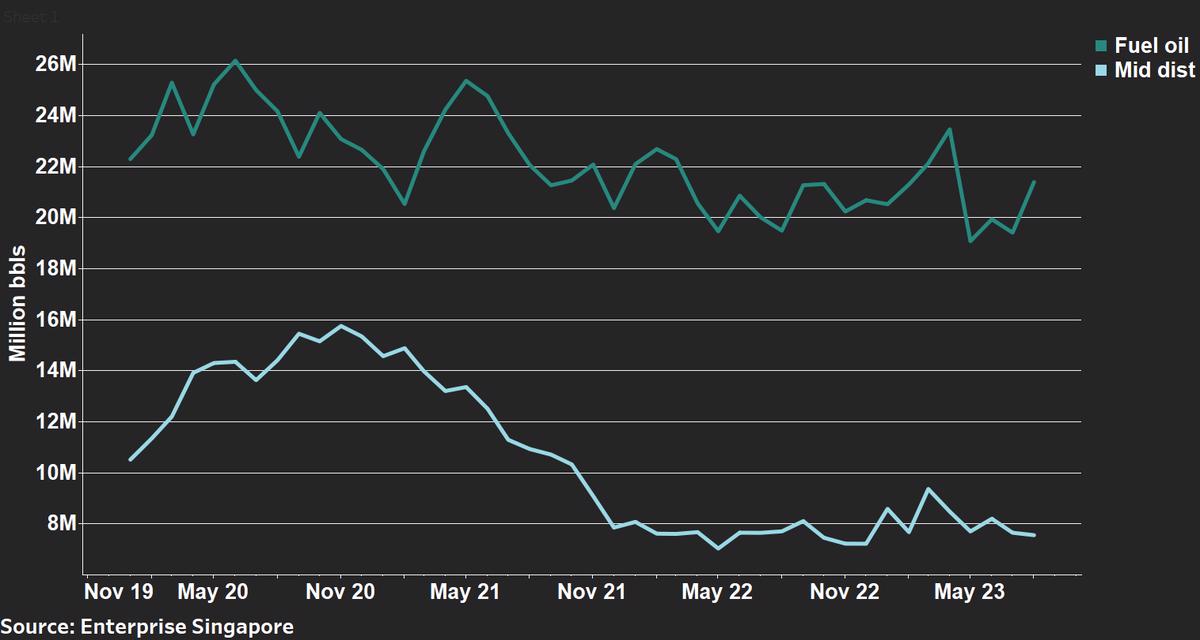 Changes in monthly average Singapore stocks from July to August (so far):
Residual fuel oil stocks up 1.98 million bbls to 21.39 million bbls

Middle distillate stocks down 100,000 bbls to 7.56 million bbls
Singapore's net fuel oil imports have fallen by 12% so far in August. Both imports and exports of fuel oil have declined this month. The Southeast Asian bunker hub's fuel oil imports have slumped by 11% so far this month, while its exports have declined 10%.
According to cargo tracker Vortexa, HSFO cargoes have primarily arrived from the UAE (46%) so far this month, followed by Russia (17%) and Malaysia (14%).
The bulk of LSFO has come from Brazil (37%) – typically its top import source. Netherlands (10%) and Russia (7%) have been the port's second and third biggest LSFO import sources in August.
The majority of HSFO cargoes departing from Singapore have been bound for Bangladesh (50%), South Korea (14%) and Malaysia (13%). LSFO cargoes out of the Southeast Asian bunker hub have headed for China (31%), Malaysia (14%) and Taiwan (12%).
On the other hand, Singapore's middle distillate stocks have averaged 1% lower so far this month than in July.
Singapore fuel oil imports and exports since January 2020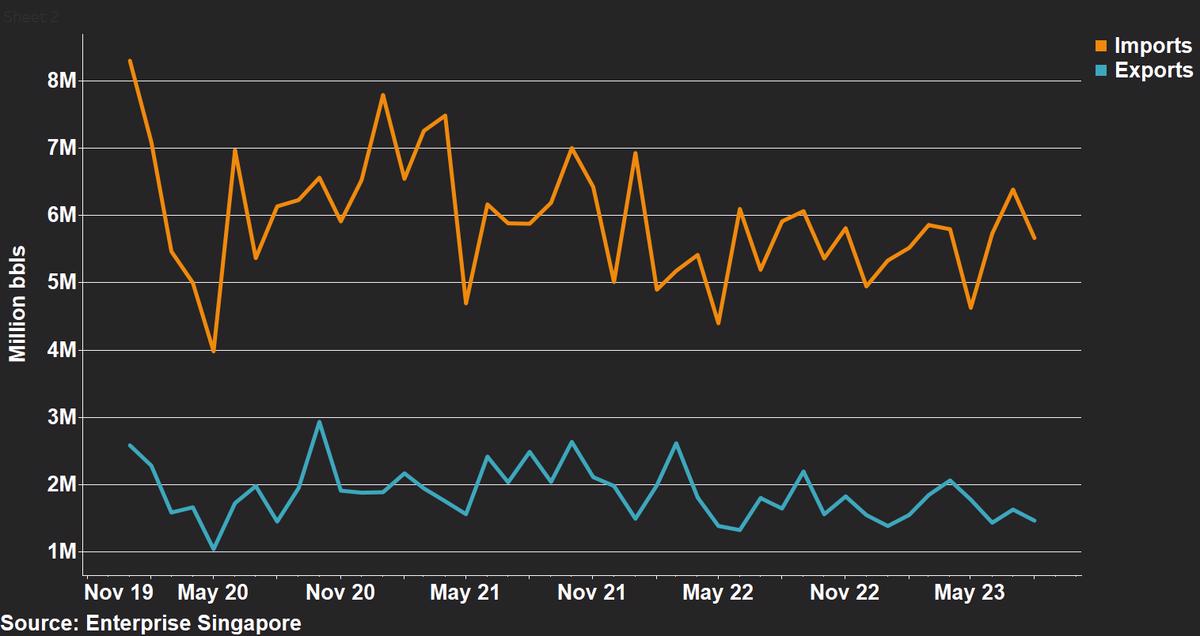 Changes in Singapore fuel oil trade from July to August (so far):
Fuel oil imports down 720,000 bbls to 5.66 million bbls
Fuel oil exports down 164,000 bbls to 1.47 million bbls
Fuel oil net imports down 556,000 bbls to 4.20 million bbls
Securing prompt VLSFO stems can be difficult in Singapore, with most suppliers recommending lead times of around 7-11 days – double from 3-5 days last week. Lead times for HSFO deliveries, on the other hand, have shrunk from 9-11 days last week to 6-8 days now. LSMGO remains readily available for prompt supply.
Did you subscribe to our daily newsletter?
It's Free! Click here to Subscribe!
Source: ENGINE