Royal Caribbean cruises are known for the wide-array of entertainment, dining and things to do onboard, and it got us thinking what would be a list of must-do activities that every Royal Caribbean cruiser should try at least once.
There is a daunting list of possibilities, but we have compiled our list of the activities that are available on pretty much every Royal Caribbean ship that are worth doing at least once.  See if you agree with what we have!
16. Eat in the main dining room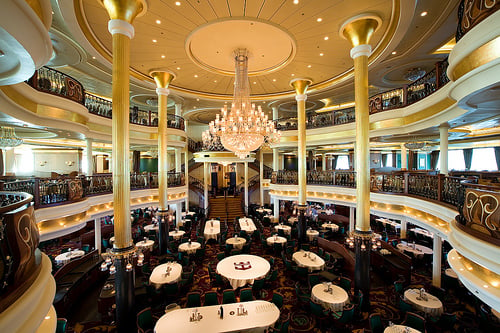 Traditional dining may not be everyone's favorite way to enjoy a meal onboard, but the main dining room is such a quintessential part of the Royal Caribbean cruise experience that we are starting our list with this institution.
The main dining room is open every day for breakfast and dinner, as well as lunch on sea days.
The elegance, service and fine dining choices available in the main dining room make this a must-do experience for anyone taking a Royal Caribbean ship.  Whether with My Time Dining or Traditional, everyone should try the main dining room at least once.
We also are big fans of lunch in the main dining room.  Available only on sea days, the lunch menu changes every day and is a bit of a hidden gem among Royal Caribbean fans for the great food choices.
15. See the Quest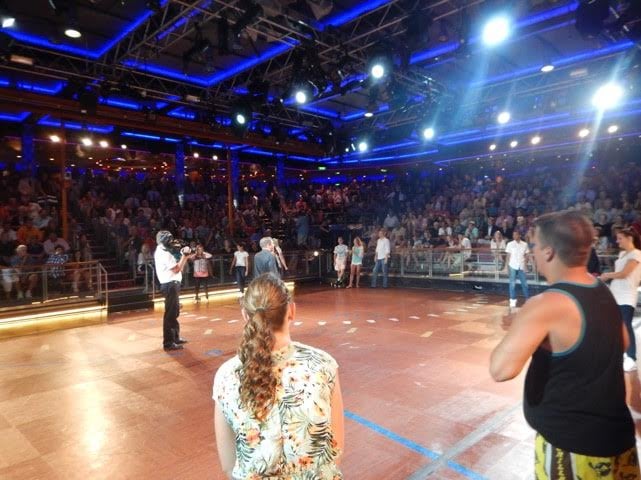 The Quest is an adults-only scavenger hunt that is big on laughs, friendly joking and competition.  When someone asks what the Quest is exactly, it is never easy to answer except to say, "you have to see it for yourself."
The Quest is an unique Royal Caribbean show that involves guests either actively participating in teams or watching the action.  You do not have to participate, but it is worth seeing for yourself at least once for the spectacle that is this show.
The Quest is an adult-oriented show, so the kids will have to grow up before checking this one off their list.
14. Watch the ship's wake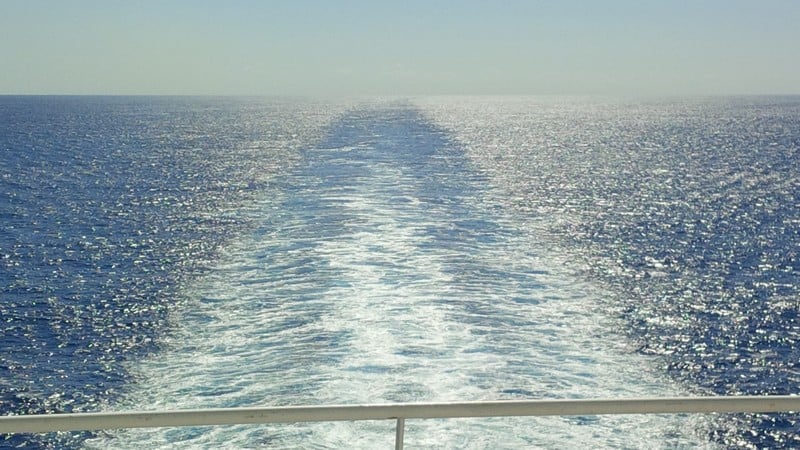 Taking a cruise is such a relaxing and wonderful way to enjoy a vacation, and regardless of which ship you happen to be on, take a walk on the outside promenade deck at least once to enjoy the view of the ship's wake from the aft of the ship.
This vantage point is quite beautiful and calming, and you might find yourself spending more time here than you thought.  Since most guests do not make it over here, it is one of the more secluded spots on a Royal Caribbean ship.
On Oasis-class ships, Royal Caribbean even added chairs for guests to enjoy and watch the wake as their ship moves to the next adventure.
13. Eat at Chops Grille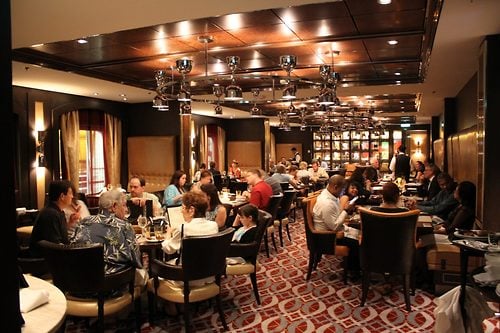 This entry should be really titled, "eat at a specialty restaurant," and if we are talking about the specialty restaurant to try if you do not eat at any others, it has to be Chops Grille.
For years, Chops Grille has been the defacto signature Royal Caribbean specialty restaurant. While many other specialty restaurants have been added in recent years, Chops Grille remains in our opinion the restaurant to try if you only choose one.  Plus, it is available on all ships in the fleet and is consistently a wonderful experience.
12. Watch a sunrise or sunset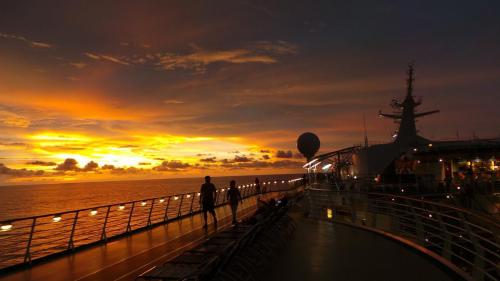 Being out in the ocean, catching a sunrise or sunset is a gorgeous event that should be done every cruise, but definitely at least once.
The spectacle of the sun rising and setting is amazing, with the many colors in the sky and reflections in the ocean, we should probably add to bring a camera with you because you will want to capture these memories.
Sunrises are much easier to see, since they usually occur at a much more convenient time, but if you cannot sleep one morning, make a point to grab a cup of coffee and try for a sunrise as well.  Either way, you will see one of nature's truly beautiful events.
11. See the Love and Marriage game show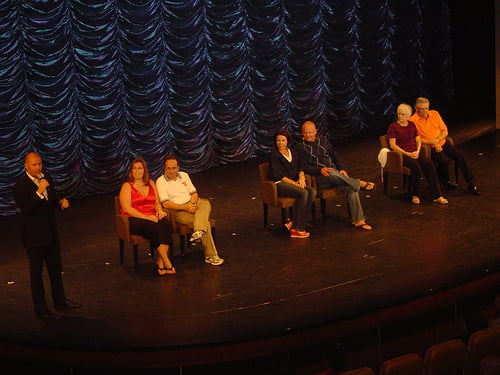 Royal Caribbean has added some incredible shows to its fleet of ships, but one evening show that is a staple of any cruise is the Love and Marriage game show.
Based loosely on "The Newly Wed game," Royal Caribbean's version involves three couples trying to prove they know their spouse the best.  It is a quiz of memory and how well one spouse thinks they know the other.
This is a show that has been performed throughout the years on Royal Caribbean, and we think it is definitely a show that you have to catch at least once to have an appreciation for how amusing it can be.
10. Watch the belly flop contest at the pool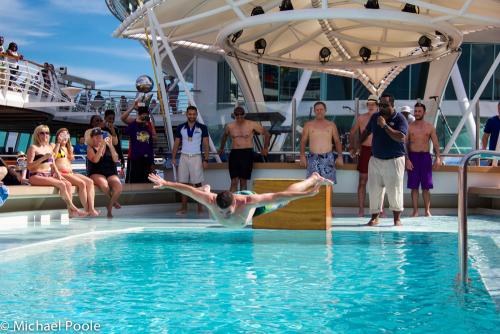 In terms of spectacles, you cannot top the belly flop competition in the main pool.
As the name implies, it is a competition of wills, determination and iron guts.  You might cringe, laugh or applaud, but it is the kind of show that everyone needs to see once.
9. Try room service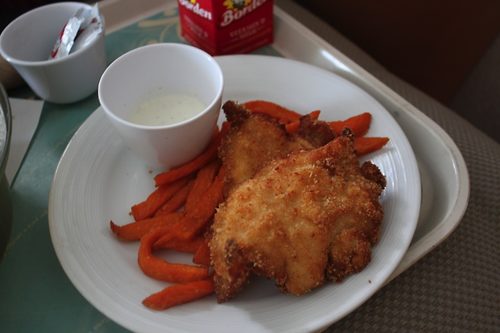 Did you know that room service is complimentary on your Royal Caribbean cruise? So many of us have become conditioned to never order room service that it escapes our minds when it comes to a cruise.
There is room service available 24 hours per day, every day of your cruise (there is a small surcharge if you order room service late at night).  The menu varies throughout the day, but the most popular option is breakfast.
You fill out the menu, leave it on the outside of your door and in the morning, your breakfast bounty will be delivered.  Even if you just order coffee and bacon to have something to get you going, it is a wonderful option.
8. Watch the wipe outs at the FlowRider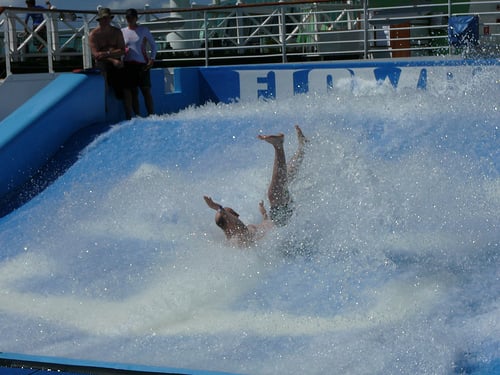 Not every ship has a FlowRider surf simulator, but if yours has one, be sure to head there one day to enjoy the performances and in many cases, lack of coordination.
Guests that try their hand at the FlowRider know that falling down is very likely to happen, but it is all held in good fun and the crew members who assist the guests actively try to help guests with improving their form and learning new tricks.
There is stadium seating behind the FlowRider, which is the perfect vantage point to take in (controlled) surfing at sea.
7. See the ice show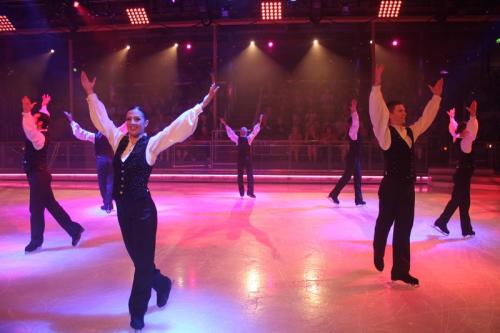 I remember on my first Royal Caribbean cruise aboard Explorer of the Seas seeing an ice show in the Cruise Compass and thinking to myself how boring that should must be.  Boy, was I wrong!
Royal Caribbean's ice skating shows are marvelous examples of grace, skills and coordination set to fabulous music with a loose story.  It all comes together to form one of the best shows Royal Caribbean offers.
If you have the same thoughts I did about seeing an ice skating show, give the show a try because it is a truly amazing show that needs to be seen at least once.
6. Stay in a balcony stateroom once
Everyone has a budget and a balcony stateroom may not always be financially feasible, but it is the kind of experience that if you have never done it before, need to save to try just once.
There is quite a heated debate among Royal Caribbean fans of whether a balcony or inside room is a better bet, but staying in a balcony is something everyone must try at least once.
Having your own private balcony can transform your cruise experience.  Whether you are on your balcony in the morning (remember room service?) or taking it all in with a book in the afternoon, a balcony stateroom means you have your own spot to enjoy without anyone else to bother you (unless that someone else is staying in your stateroom).
5. Experience a sailaway party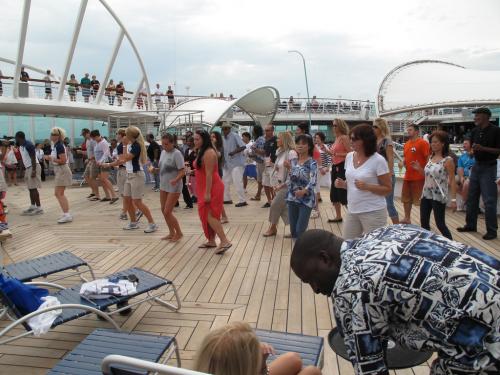 Your Royal Caribbean cruise really begins when the muster drill is over and the ship drops its lines and leaves port to head to the first stop.  To celebrate this moment, Royal Caribbean offers a sailaway party at the pool deck and invites all guests to join.
The sailaway party involves dancing, music and drinks and is something worth trying at least once.
There are lots of places onboard a Royal Caribbean cruise to enjoy sailaway, but the sailaway party is something that must be experienced, because it is a core part of the Royal Caribbean cruise process.
4. Take a spa tour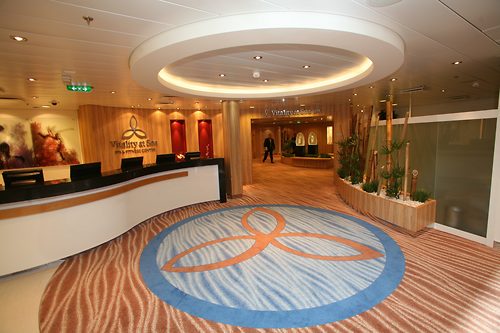 You do not have to buy anything, but the Vitality Spa tour are complimentary and a great way to see this relaxing and luxurious oasis with no commitment.
Tours are available throughout your cruise, but the time to do it is on embarkation day.  The reason to take a tour is as much to learn about the services offered, as it is to take in the wonderful aromas, check out the facilities and learn more about the ship you are on.
3. Dress up for formal night
Formal night may be a vestige of cruising's past, but it remains one of the classiest evenings of any cruise and we think you ought to try it at least once.
The reason why formal night is fun is because in most of our lives, there is so little opportunity to get dressed up outside of weddings and funerals.   On formal night, everyone looks great and when you look great, you feel great too.
While you are dressed "to the nines," be sure to take photos of the family looking their best. Royal Caribbean provides complimentary photographers to take your photos, and then you have the choice later to purchase the photo or not.  Nearly all of our family photos are from formal night on a cruise and it is worth doing at least once.
2. Try the escargot (seriously)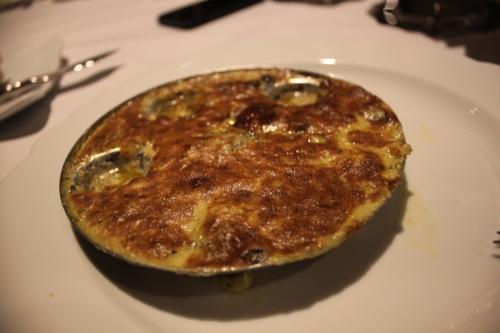 In case you did not know, escargot are cooked snails and they are a delicacy and available each evening in the main dining room.  And yes, most people probably make a face when they first read about it, but it has become a cruising classic and you ought to give it a whirl at least once.
Most fans of escargot will tell you that it is not nearly as bad as you think, and the fact they are cooked in plenty of garlic and butter means you can barely taste them.  Eat it with bread and you may not even recognize the former terrestrial pulmonate gastropod molluscs.
1. Book another cruise while onboard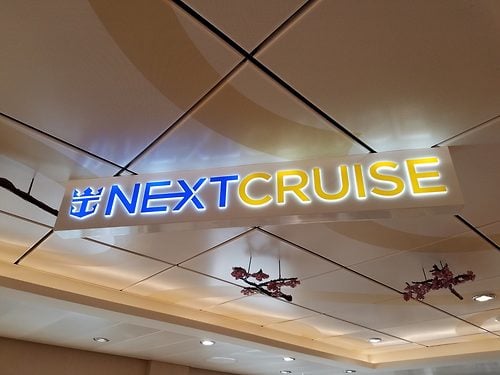 A very common question that is asked on this site is how to get the best deal on a Royal Caribbean cruise, and without a doubt, it is to book another cruise onboard.
Royal Caribbean's NextCruise program offers essentially "free money" for rebooking.  You can book any Royal Caribbean cruise that is open for booking and take advantage of any booking promotion that is offered, plus get bonus onboard credit and reduced deposit for booking a cruise onboard a Royal Caribbean cruise.
Not only is it a great deal, but it will give you something to look forward to when you have to sadly disembark your cruise later!
Did you subscribe for our daily newsletter?
It's Free! Click here to Subscribe!
Source: Royal Caribbean Blog