 Health minister and Conservative MP Nadine Dorries has tested positive for coronavirus.
Labour MP Rachael Maskell has placed herself in self-isolation after she came in contact with Ms Dorries.
NHS England's chief scientific officer assured that the health service was preparing to cope with more cases.
German Chancellor has warned that up to 70% of the German population could be affected.
Italy has imposed a lockdown on the city after 1,00,000 tested positive.
Numerous flights to affected cities remain cancelled, China sees a decrease in infections.
Music festivals and other major events in the US have been cancelled or postponed.
According to an article published in BBC News, Health minister and Conservative MP Nadine Dorries has been diagnosed with coronavirus.
Six people with the virus have died in the UK, which has a total of 382 cases. The latest person to die was a man in his early 80s who had underlying health conditions.
Labour MP infected with coronavirus
Ms. Dorries said she has been self-isolating at home. Labour MP Rachael Maskell said she has since been told to do the same as she had met Ms. Dorries. The Department of Health said Ms. Dorries first showed symptoms on Thursday – the same day she attended an event hosted by the prime minister.
It is not known how many meetings Ms Dorries had attended at Westminster or in her constituency in recent days, but she was at an event at Downing Street last Thursday to mark International Women's Day.
She also held a surgery in her constituency on Friday morning which was attended by up to 12 people, according to Steven Dixon, chair of the Mid Bedfordshire Conservative Association. Mr Dixon said the details of all those who attended the surgery have been passed to the NHS. The Flitwick Club, where the surgery took place, is undergoing a deep clean as a precaution.
The Department of Health said ministers – including the prime minister – would not need to undergo testing as Public Health England (PHE) has assessed the risk of Ms Dorries' close contacts and only those with symptoms needed to self-isolate.
But Labour MP Rachael Maskell tweeted she has been told by NHS 111 to self-isolate "as a result of a meeting" she had with Ms. Dorries last Thursday.
Impact of the outbreak to be discussed
The government is unveiling its first Budget, amid growing fears about the impact the outbreak will have on the UK economy.
Chancellor Rishi Sunak has pledged the NHS will get "whatever resources it needs" during the crisis as well as a "temporary coronavirus business interruption loan scheme" to support small and medium-sized businesses.
He also said the government will meet the cost of statutory sick pay for firms with up to 250 people, and people who are self-employed and fall sick will be eligible for benefits from day one.
The Bank of England earlier announced an emergency cut in interest rates from 0.75% to 0.25% in response to the economic impact of the coronavirus outbreak.
UK's plans to tackle the outbreak
The chief executive of NHS England Sir Simon Stevens announced plans to invite "

up to 18,000 third-year undergraduate nurses to help out on the frontline

".
NHS England is scaling up its capacity for testing people for the infection.
Public Health England, is set to expand the number of people it can test a day to 10,000 – currently 1,500 are being carried out
Confirmation of any positive test results will also be accelerated with most people getting a result back within 24 hours
Manchester City's Premier League match against Arsenal on Wednesday has been postponed as several Arsenal players are in self-isolation after coming into contact with Olympiakos owner Evangelos Marinakis, who tested positive for the virus
NHS chief scientific officer Prof Dame Sue Hill said the health service was preparing to cope with more cases.
Scotland, Wales and Northern Ireland will be expected to roll out their own testing services, but there will be some shared capacity between nations, depending on need.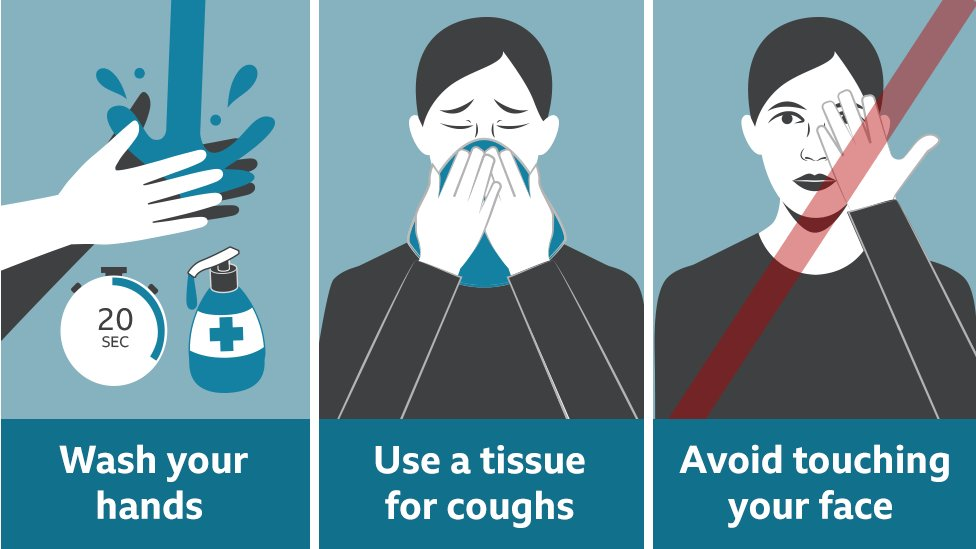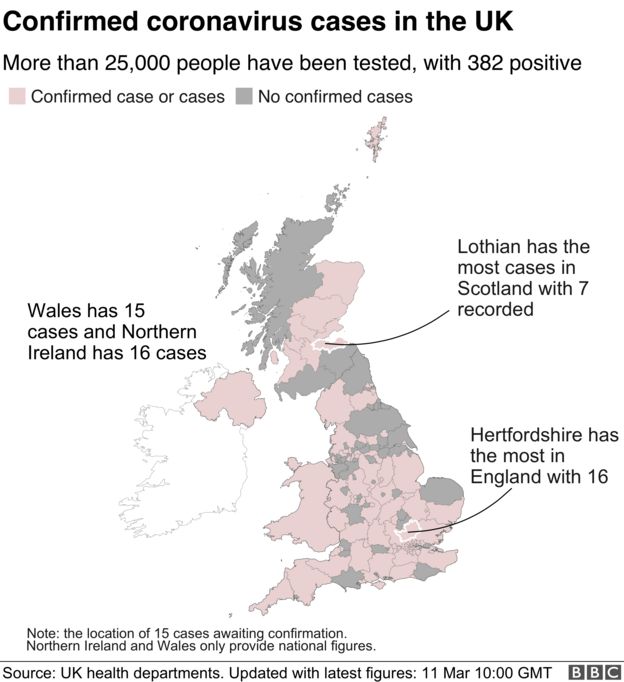 German Chancellor issues grave warning
According to an article published in BBC News World, following the lockdown imposed by Italy, German Chancellor Angela Merkel has warned that up to 70% of the German population(around 58 million people) could contract the coronavirus.
Mrs Merkel made the stark prediction at a news conference on Wednesday alongside Health Minister Jens Spahn. She said since there was no known cure, the focus would fall on slowing the spread of the virus. "It's about winning time," she explained.
Germany confirmed its third coronavirus-related death on Wednesday, in the badly affected district of Heinsberg in the western state of North Rhine-Westphalia.
The situation around the world
Italian has issued the closure of schools, gyms, museums, nightclubs and other venues across the country, which on Wednesday passed 10,000 confirmed infections.
New York's governor announced that troops would be sent into New Rochelle, a town north of the city, in an attempt to contain an outbreak of the virus.
China has seen a total of 80,754 confirmed cases and 3,136 deaths. But it recorded its lowest number of new infections, just 19.
Music festivals and other major events in the US, including Coachella festival in California, have been cancelled or postponed.
In Italy, which has seen a steep rise in cases, the prime minister pledged 25bn euros ($22bn) to tackle the outbreak – up from the 7.5bn euros announced last week.
Thousands of flights have been cancelled worldwide as airlines struggle to cope with a slump in demand.
Did you subscribe to our daily newsletter?
It's Free! Click here to Subscribe!
Source: BBCNewsUK & BBCNewsWorld