 According to a Bloomberg report, the cost of hauling oil from the U.S. to China has skyrocketed to nearly $10 a barrel — almost half of what the American benchmark crude is currently valued at — as the price war spurs a rush for ships.
Floating Storage Scramble
Glencore Plc's shipping arm provisionally booked very large crude carrier Seeb to ship oil from the U.S. Gulf Coast to China in the first half of May at $19.5 million, according to shipbrokers and fixtures seen by Bloomberg. The rate has jumped from $6.55 million in early March as Saudi Arabia booked vessels to unleash a flood of crude and traders scrambled for ships for floating storage.
Unprecedented Hoarding
Everything from crude to oil products such as jet fuel is being hoarded due to market structures where later-dated prices are more expensive than prompt contracts, making it attractive to hold supplies and sell them later. West Texas Intermediate's six-month timespread was more than $12 a barrel in contango on Tuesday, near the widest since 2009, data compiled by Bloomberg show.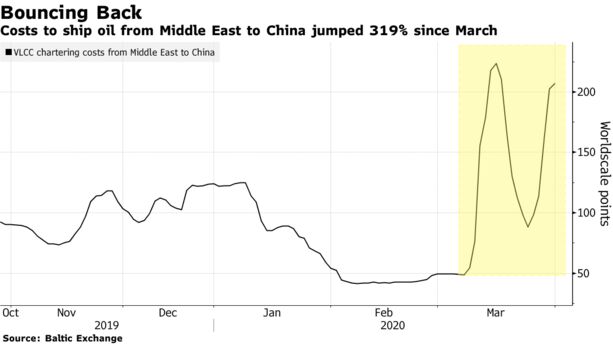 Ships Needed To Export Crude
More ships are also needed to export U.S. crude as the world's biggest consumer sheds demand due to the coronavirus and a White House plan to buy domestic oil to top up emergency stockpiles was thwarted by Democrats. Meanwhile, China is moving forward with plans to purchase oil for its emergency reserves after an epic price crash.
Costs are also surging on other journeys. Transporting oil on the key Middle Eastern Gulf to China route, known as TD3C, has become more than three times as costly than in early March as of Wednesday, rising to 212.71 worldscale basis points, Baltic Exchange data show.
China's Hengli Petrochemical Co. provisionally chartered VLCC DHT Hawk to haul crude from the Persian Gulf in mid-April for 205 points on a worldscale basis, according to two shipbrokers. Bookings on the same journey were around 81 points just a week ago.
Did you subscribe to our daily newsletter?
It's Free! Click here to Subscribe!
Source: Bloomberg