HD Hyundai to expand LNG tanker conversion biz with orders, states a Korean Economic Daily news source.
HD Hyundai Global Service
HD Hyundai Global Service is in talks for 10 more such projects after the expected two contracts worth up to $260 mn.
HD Hyundai Global Service, the ship retrofit subsidiary of the world's second-largest shipbuilder HD Hyundai Co., is poised to bag orders to convert liquefied natural gas carriers to floating terminal vessels for the first time amid rising demand for such projects on tougher emissions regulations.
HD Hyundai Global Service is scheduled to sign two deals worth $100 million-$130 million each with global shipping companies to retrofit aged LNG tankers to floating storage regasification units (FSRUs), buoyant vessels that can transport, store and re-gasify LNG onboard, according to industry sources on Wednesday.
The company is known to be in final talks with the customers on details of the contracts including schedules and values to ink the deals as early as September.
Demand for FSRUs is growing as it often takes about one year to convert LNG tankers to floating terminal vessels. On the other hand, three to five years are needed to set up LNG facilities on land and two to three years to build new FSRUs.
Europe has been increasing infrastructure for LNG procurements to replace the natural gas supply from Russia since the country invaded Ukraine in February 2022. The attack further ramped up LNG demand, which grew even before the attack amid toughening rules on fossil fuels.
The International Maritime Organization's (IMO) regulations to reduce ocean pollution also caused shipping companies to convert aged LNG carriers, which emit carbon, to FSRUs as it is more profitable than selling the ships as scrap metal.
HD Hyundai Global Service is known to be in talks for 10 more deals for such transformation works as customers recognized its technology, given the know-how on new FSRUs of its affiliate HD Hyundai Heavy Industries Co. The South Korean shipbuilder secured 12 contracts to manufacture the floating terminals out of a total of 50 orders from global shipping companies.
Growing demand for ship retrofits, repairs
HD Hyundai Global Service last month bagged a project to install equipment to re-liquefy boil-off gas (BOG) in five LNG tankers for the first time. The value of the deal was about $10 million per ship.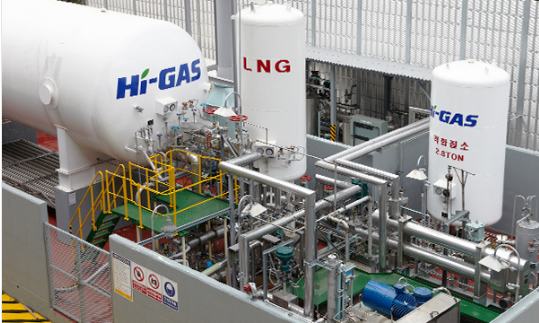 LNG carriers' cargo holds cannot completely block heat inflows, which naturally vaporize 0.15% of LNG a day and make BOG. The equipment re-liquefies the BOG and restores it in the cargo holds.
The company was expected to win more orders for the retrofit service as about 100 LNG carriers are currently sailing without the equipment across the world, industry sources in Seoul said.
HD Hyundai Global Service is also eyeing the growing vessel repair service market. Most ships have a lifespan of 20 to 30 years but they need maintenance work on engines and other components after three years of sailing.
"The ship maintenance business consists of consumable supply and repair service sectors, which are both profitable," said an industry source in Seoul.
The growing number of LNG carriers worldwide made the maintenance business more lucrative as those vessels equipped with advanced technology need expensive parts and skilled engineers for repairs, raising maintenance costs.
HD Hyundai Global Service is likely to benefit more from the trend as HD Korea Shipbuilding & Offshore Engineering Co., HD Hyundai group's intermediate holding company, has won orders to build some 5,000 ships so far, industry sources said.
The ship retrofit service provider said it aims to go public next year given the bright business outlook.
Did you subscribe to our daily Newsletter?
It's Free! Click here to Subscribe!
Source: Kedglobal